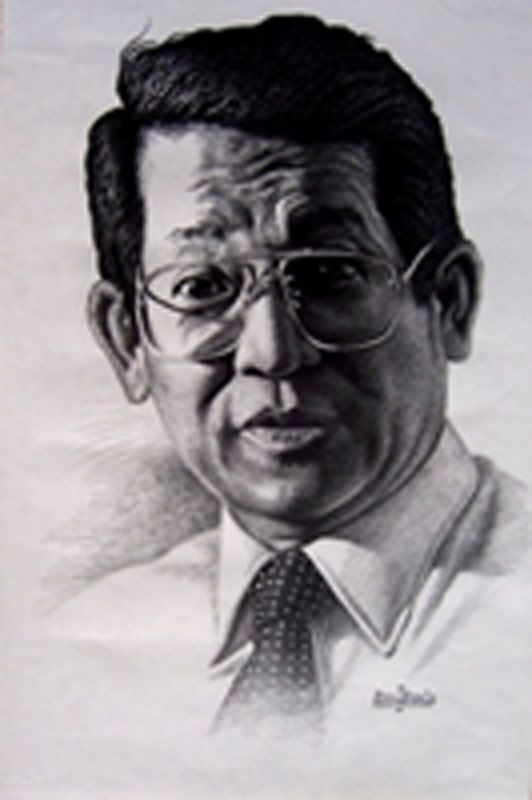 Benigno Aquino (1932-1983), Philippine political figure, leading member of the opposition Liberal Party who was assassinated during the dictatorship of Ferdinand Marcos (1972-1986)
"Aquino, popularly known as Ninoy, married Corazon Cojuangco in 1954. He entered politics at the age of 22 and subsequently became the youngest mayor, governor, and senator to serve in the Philippines. Imprisoned in 1972 when President Marcos declared martial law, Aquino was allowed to move his family to the United States so he could undergo heart surgery. He later served as a research fellow at Harvard University and the Massachusetts Institute of Technology. In 1983 he returned to Manila to work in the legislative election. Despite high security, he was assassinated as he deplaned on August 21. Although an investigation commission declared that several military allies of Marcos were responsible for the assassination, all defendants were acquitted in a 1985 trial. In 1986 a popular uprising in Manila, called the People Power Movement, forced Marcos to flee the Philippines, and Benigno's widow Corazon Aquino took office as the elected president. The Supreme Court subsequently declared his murder trial a mistrial. In a new trial that ended in 1990, 16 military officials were convicted of his murder."
Microsoft ® Encarta ® 2006. © 1993-2005 Microsoft Corporation.
August 21, 2008, the very same day, 25 years ago, sent the nation into mourning. Their voice for democracy was mercilessly shot as he got off the plane that brought him home. When he landed to the ground, Ninoy became immortal.
That scene has never faded since. To those who had seen it, they became the audience of history and went on to narrate it. To the rest of the Filipinos, that scene urged them to create and become a part of history.
Ninoy's death sparked a revolution. Reminiscent to what happened after Rizal's execution. But this time, it wasn't the Spaniards or the foreign colonizers that we were against, but the dictatorship and the cruelty of a government which was tormenting its race instead of working for its benefit.
If we look at it, Ninoy's death wasn't totally a tragedy. It was our weapon in destroying the trap which held us to being puppets of an unwanted way of ruling. His life served its purpose.
Now, 25 years after, the new generation is struggling to grasp the ideals of Ninoy. Beyond the history books and the articles, his legacy must live within the lives of the young. Ninoy gave himself to make sure that we are able to live freely, with nothing to hold us back, making us Filipinos with dignity and with pride.
P.S. Ika-21 ng Agosto, 2008 alas-otso ng gabi, namaalam ang aking lolo. Mawawala muna ako sa blogosperyo pansamantala. Nagluluksa ako sa pagkawala niya. Nawa'y ipagdasal po ninyo ang kanyang kaluluwa.
Photos courtesy of
http://www.photobucket.com/
. And special thanks to Pinky Jalandoni (http://pinkygj.multiply.com/journal/item/22)